Alaska, this was on Peter´s bucket list so I was of course more than willing to plan this trip. What a wonderful experience to travel from Vancouver by ship along the coast visiting places like Ketchikan, Juneau and Skagway, cruising through Glacier Bay National Park, College Fjord, Hubbard Glacier, on our way to Anchorage and Denali National Park. The cream on the cake for me was to get a snapshot of Denali then Mount McKinley just after midnight. After discussing the photo with a local ranger at Denali National Park I was told that this photo was exceptional as not many people experience the peak in the sun as I did at this moment. Again my thanks go out to my very patient husband Peter who kept other passengers waiting while I got out to get this very special shot!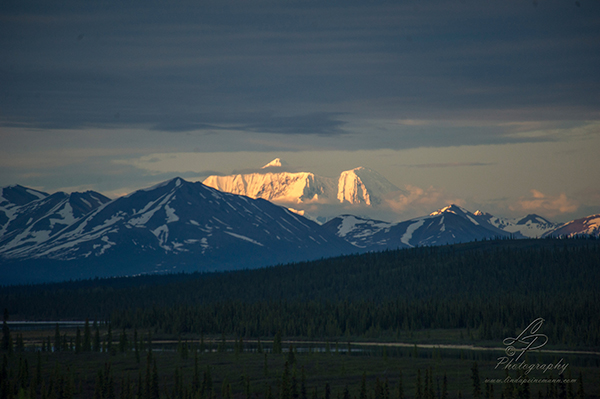 (Mount McKinley 2012) 
Denali (also known as Mount McKinley, its former official name) is the highest mountain peak in North America. with a summit elevation of 20,310 feet (6,190 m) above sea level. 
Der Denali in Alaska ist mit 6190 Metern Höhe der höchste Berg Nordamerikas und gehört damit zu den so genannten Seven Summits, den höchsten Bergen der sieben Kontinente