08.01.2018 Kuala Lumpur, Malaysia
We had not done any preparation work for the next 2 stops.
Originally 6 of us were going to share a large taxi and do a city tour. A last minute 7th person came along and consequently we had to take 2 taxis. Price 85 US$ for the taxi for 7 hours. Shortly after leaving we added one extra hour at a price of 15 US$.
To be truthful I had not idea of what to expect and was nicely surprised by the clean modern city which we toured. Unfortunately our ship lay at anchor quite a way from the city and we had to travel over 1 – 1 ½ hours to get into the area where our tour started.
First stop was the "Batu Caves". It is not always easy when traveling with 7 instead of 2 and Peter misunderstood the situation and dashed off up the 272 steps to the caves above. This surprised me very much as I intended going up too but was now left standing at the bottom with no money to pay for a cloth to cover my legs (which you must always have with you in these countries if you are not wearing ousers or a long skirt to the floor and want to visit temples). Fortunately Helga gave me 5 Rupien to rent a wrap and I was able to start climbing. No-one else in the group wanted to make the high climb. I was sure the sight would be worth seeing and it was! On reaching the top Peter was coming out as he had hurried his visit not wanting to keep everyone waiting. He had not seen the complete cave so we went back in together. It was tremendously interesting. There were also some monkeys in this area and as often, a lot of tourist were stupid in feeding them. This is so dangerous. They bite and scratch and can spread Hebatitas B.
On our return to th bottom 4 of our group had gone on in the first car and Monika waited for us.
This was no problem and I could understand them not wanting to stand around in the heat, without shade, waiting for us.
BUTA CAVES - Arrival & outside area
Entrance to the main cave
First cave part - "Cathedral"
Second/upper cave part "Alter for prayer"
Batu Caves is a limestone hill that has a series of caves  and cave temples. It takes its name from the Sungai Batu (Stone River), which flows past the hill. Batu Caves is also the name of a nearby village. The cave is one of the most popular Hindu shrines outside India, and is dedicated to Lord Murugan. It is the focal point of Hindu festival of Thaipusam in Malaysia.
Batu Caves in short also referred as 10th Caves or Hill for Lord Muruga as there are six important holy shrines in India and four more in Malaysia. The limestone forming Batu Caves is said to be around 400 million years old.
Wooden steps up to the Temple Cave were built in 1920 and have since been replaced by 272 concrete steps. Of the various cave temples that comprise the site, the largest and best known is the Temple Cave, so named because it houses several Hindu shrines beneath its high vaulted ceiling. At the entrance below the cave the world´s tallest statue of Murugan, an Hindu dity is located.
The statue is 42,7 meters high (140 ft.) The statue, which cost approx. 24 million rupees, is made of 1550 cubic metres of concrete and 250 tonnes of steel bars.  It took 3 years to construct.
Rising almost 100 m above the ground, the Batu Caves temple complex consists of three main caves and a few smaller ones. The biggest, referred to as Cathedral Cave or Temple Cave, has a very high ceiling and features ornate Hindu shrines. To reach it, visitors must climb a steep flight of 272 steps.
The Batu Caves have become a pilgrimage site not only for Malaysian Hindus, but Hindus worldwide, from countries such as India, Australia and Singapore.
Next stop:
Photo stop - Statue of Independence / National Monument
Unfortunately our taxi driver was not talkative and we received no information on the places we saw and visited.
Statue of Independence / National Monument
Next stop:
Photo stop - Independence Square
Next stop:
Photo stop - National Palace
Next stop:
Petronas Twin Towers – which was only a photo stop as the towers are closed on a Monday, are twin skycapers in the city of Kuala Lumpur, Malaysia.
They were the tallest buildings in the world from1998 to 2004 and remain the tallest twin towers in the world. The buildings are a landmark of Kuala Lumpur, along with nearby Kuala Lumpur Tower, which 1 Linda just had to visit at the TOP! 
The Petronas Towers were the tallest buildings in the world for six years, until Taipei 101 was completed in 2004. The height of the towers is measured to the top of their structural components such as spires, but do not include antennas. Spires are considered actual integral parts of the architectural design of buildings, to which changes would substantially change the appearance and design of the building, whereas antennas may be added or removed without such consequences. The Petronas Towers still remain the tallest twin buildings in the world.
Next stop:
Hard Rock Cafe – Monika wanted to buy a T_Shirt for her husband.
Next stop:
The Kuala Lumpur Tower 
I felt I was surrounding by such tall building and did not have to time to take in their architecture nor features through the window of a taxi so I really wanted to visit the top platform of this tower to appreciate the city. There are 2 platforms. The first is half way up and is named the observation platform  (276 meters). It costs less to go up to this height. It is a window/glass platform.
I went up top to the open tower view - 421 meters. This was terrific for photography as the glass only comes up half way and it is possible to take photos over the top of this glass barrier.
I took 2 other cameras up with me to take some photos for others who did not dare the height.
This is a communications tower. Its construction was completed on 1 March 1995. It features an antenna that increases its height to 421 meters (1,381 feet) and is the 7th tallest free standing tower in the world.
The roof of the pod is at 335 meters (1,099 feet). The rest of the tower below has a stairwell and an elevator to reach the upper area, which also contains a revolving restaurant, providing diners with a panoramic view of the city. The tower is the highest viewpoint in Kuala Lumpur that is open to the public.
The Kuala Lumpur Tower - 360 degrees view of the city
Next stop: Shopping in China Town
Next stop: Ship
Our return journey took nearly 2 hours as the traffic was so heavy. Back at the ship weh ad a quick shower and change and hurried to the restaurant. It had been a long day but also an interesting day. I had expected a much dirtier and less modern city than what we found. Other guests told us that they had worked the city and seen a lot of rubbish in the side streets. We cannot confirm this as everywhere we went was clean.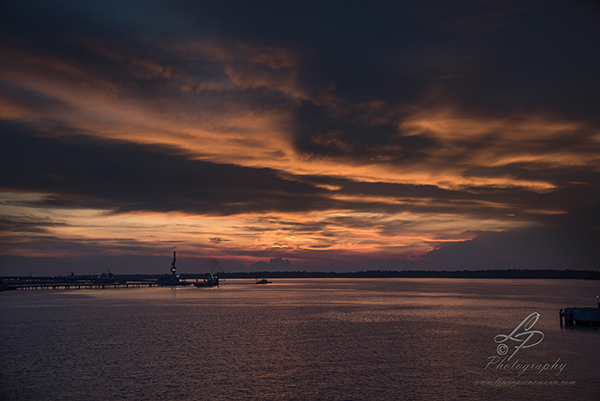 Sunset & Sailaway Kuala Lumpur, Malaysia
Notes:
Kuala Lumpur is the national capital of Malaysia as well as its largest city, it covers an area of 243 km2(94 sq mi) and has an estimated population of 1.73 million as of 2016. It is among the fastest growing metropolitan regions in South-East Asia, in both population and economic development.
Kuala Lumpur is the cultural, financial and economic centre of Malaysia and home to the Parliament of Malaysia, and the official residence of the Malaysian King.
Tourism plays an important role in the city's economy. Kuala Lumpur is the sixth most visited city in the world, with 8,9 million tourists per year.
PHOTOS FROM GOOGLE NOT FROM ME - WE WERE NOT IN KUALA LUMPUR AT NIGHT!
Peter - 
08.01.2018 KUALA Lumpur 
Bis in die Stadt mussten 90 Minuten per Taxi zurück gelegt werden. Unsere Gruppe bestand aus 7 Personen, wir benötigten 2 Taxen. Eigentlich wollten wir zusammen bleiben, das klappte nur bis zum 1. Stopp, wir waren bereits an den CAVES IM BERG angekommen als auch die anderen 4 zu uns stießen. Um in die Caves zu gelangen mussten 264 Stufen erklommen werden, zwischen unserer Gruppe gab es Missverständnisse, da ich unbedingt da hoch wollte stürmte ich ohne weiter zu gucken los. Oben angekommen war es dann ein ergreifendes Gefühl. Es ist nicht nur ein Cave sondern auch ein wichtiger Tempelberg.
Ich war bereits in Begriff wieder hinunter zu steigen als ich Linda hinauf steigen sah. Wir inspizierten dann die Riesenhöhle gemeinsam noch etwas genauer. Linda hatte noch Walters Kamera dabei damit habe ich dann für ihn noch Eindrücke festgehalten. Linda und ich schafften den Abstieg gemeinsam, Monika wartete auf uns, die anderen hatten sich allerdings bereits zu weiteren Sehenswürdigkeiten auf gemacht.
Wir sahen uns dann den Stolz der Stadt, den strahlenden Istana Alam Shah Kaiserpalast de nach wie viele offizielle Zeremonien und königliche Veranstaltungen erlebt mit seinen gepflegten Garten durch den hohen Zaun an bevor es weiter ging zum Memorial Denkmal, zum Square of Independents, zu den Twin Towers die wir lediglich nur von der gegenüber liegenden Straßenseite bestaunen und fotografieren konnten, rein bzw. hinauf konnten wir nicht den Montags sind die Twin Tower für Touristen geschlossen, als weiteres Highlight stand jetzt noch der 431 Meter hohe KL Tower  auf unserer "To Do List", Linda fühlte sich als einzige von uns fit ihn (mit Hilfe des Fahrstuhl) zu erklimmen. Begeistert kam sie nach 35 Minuten wieder herunter. Der letzte Punkt unserer Tour war der obligatorische Besuch der Markthalle mit angrenzenden Chinatown. Ich wollte genervt vom Trubel nicht mehr mit gehen, habe mich dann aber doch entschieden Linda 30 Minuten zu begleiten.
Unsere Rückfahrt erwies sich als sehr Zeitaufwendig, welchen Weg unser Taxifahrer auch wählte wir sahen immer wieder bedingt durch den Feierabendverkehr Bremslichter, leicht genervt ließ er sich schließlich per GPS auf kleineren Straßen aus der Stadt heraus leiten. Nach 2 langen Stunden waren wir um 19.30 Uhr  wieder zurück. Wir hatten am Abend nicht mehr viel vor den am nächsten Tag wartete bereits der nächste Stopp an der Insel Langkawi auf uns.
Wissenswertes: Die moderne Geschichte des Staates Malaysia begann im 16. Jahrhundert als reiche Zinnvorkommen entdeckt wurden die viele Einwanderer und auch Kolonialmächte anlockten. Im 18. Jahrhundert waren die chinesischen Bugis hier Tonangebend und bestimmten die politische und Wirtschaftliche Macht. Weil der malaiische Adel Unterstützung in den Kämpfen gegen die Bugis benötigte bekamen die Briten die Chance in Selangor Fuß zu fassen. Die britischen Kolonialherren blieben in Sengalor von 1874 bis zur von Malaysia im Jahre 1957. Das gesamte Bundesland hat heute eine sehr gut strukturierte Wirtschaft. Landwirtschaft, Leichtindustrie Handel und Tourismus sind die wichtigsten Standbeine. Die größten Unternehmen des Landes haben sich am Fluß Klang in unmittelbarer Nähe des relativ großen Hafens (Port Klang) angesiedelt. 
Sengalor ist mit 3.7. Millionen Einwohner das am dichtesten besiedelte Bundesland Malaysias wozu die Bevölkerung von Kuala Lumpur erheblich beiträgt. Kuala Lumpur ist die zur Zeit die am schnellsten wachsende Metropole Asiens,  9.7 Millionen Touristen besuchen die Stadt jählich und die Stadt steht damit an 8 Stelle der meist besuchten Städte der Welt.