Argentine & Brazil 
THE IGUAZU NATIONAL PARK & WATERFALLS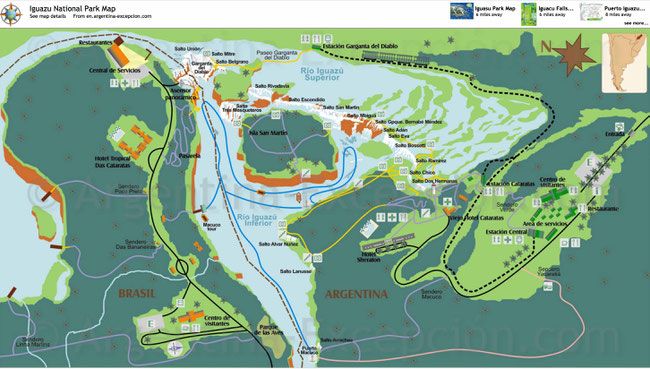 Peter´s panorama photo from the Brazil side
SIEHE FOTOS AUF NÄCHSTEN TAG - HABE FALSCH UPLOADED - SORRY
DIESER FOTOS SIND VON BRAZIL AUS
SEE PHOTOS ON THE NEXT DAY - MADE AN ERROR IN UPLOADING AND TIME IS SHORT!
The following photos are from the Brazilian side 
05.11.2017 - Day 2.                                                                                                                            After a good breakfast at 7 a.m. we set out for the national park that was approx. 30 minutes away from our hotel. On arrival we parked our car and I, Linda went to get our entry tickets and a car park ticket. First problem! We had been told that we could pay in US$ or with a credit card more or less everywhere. The entry cash desk at the park only takes local Pesos. Inside the park you can pay with dollars or credit card but not at the entrance. The lady at the ticket office was very helpful, she told me to go into the shop and buy a bottle of water with dollars and request Pesos in return. Second problem! In the shop they refused to take every single dollar note I gave them because there was something wrong with it, either a turned up corner, a mark on the note, a crease in the note. They explained that the bank will not accept these notes. We had previously had the same experience on the Galapagos Islands. After Peter had emptied his wallet and run out of dollars to show them I asked if they would accept Euro!! Yes and there were no problems with the notes. We received local money in return and I went back to get our tickets. Standing in front of the same lady I suddenly realised – next problem! I did not have our passports with us. You must show your passports to get into the national park. I told the lady I had left them in our hotel for safety reasons. She smiled at me, put her finger to her lips to say "don´t tell anyone" and gave me our entry tickets.  Finally we were able to enter the park.
We got a map of the park and it was then that we first realised how HUGE the area is that we were able to walk and visit. The routes you can take are marked in colours. We decided to walk the red trails first. The red upper trail was our first route and proved to be so interesting after about 1000 meters. We could hear the waterfalls from far away. We turned the next corner and my jaw dropped open…. The view was unbelievable!
So much natural beauty – so much water flowing downwards in the waterfalls, it was amazing and this was only the first view! After following this trail from one waterfall to the next we decided to take the upper trail that meant taking a small train. The distance to the upper waterfall by train is approx. 5 km. We them walked approx. 3 km from the train station to the end point, passing by many fantastic and amazing views of various waterfalls and different views of the same waterfalls. Peter and I were completely amazed at the amount of water flowing to and down the waterfalls. I have to admit that this area had had a rainy season before we arrived, which of course meant that the amount of water was more than usual. Arriving at the furthest and highest point we were speechless. We were so impressed by the view we had and were now standing on a platform above the highest point. It was really marvellous and words cannot explain how we felt or how marvellous it was to be there.
I hope you will enjoy some of the photos which I have taken trying to portrait this experience. Peter and I took the time to not only photograph but also film this experience.
Nothing in the world of water compares with or is more impressive than the natural spectacle provided by this magnificent series of 275 waterfalls that form Iguaçu Falls.
The average discharge of the Falls is about 1,800 m3 per second, an average volume of water of about 10 million litres per second.
Fortunately we had been able to buy a take-away lunch at the train station and eat it on the train going up to the previous point as it was now early afternoon and we decided to head back to the mid station to follow the red line again leading us to the lower falls. Following this trail we were now walking at a lower elevation and looking up at the waterfalls – a completely different perspective and just as beautiful.
After being in the park for 9 hours at this time point and according to Peter, who does not exaggerate, we had walked far over 30 km we now headed for the exit. We had not walked all the trails but definitely seen a lot and were more than satisfied.
The trails are really well done and a lot of money has been invested to give visitors wonderful views. Platforms reach out allowing you to look up and down under and over the falls or view them from the sideline.
 On our way to the exit Peter spotted some Toucan birds flying above. We watched for a while and then followed their trail to where they were landing in some nearby trees. This was a again another highlight to our day. After about 30 minutes of watching and photographing the birds we left the park at 6.30 p.m. feeling quite tired and looking forward to the swimming pool at our hotel and a cool beer.
What a very special day in our lives, one we will remember for many years to come.
Dreams can come true – one of mine did today!!
Tag 2 – Peter
Der Tag begann mit einem guten Frühstück. Nach einer halbstündigen Fahrt erreichten wir bereits den Iguazu Nationalpark. Nachdem kleine Probleme in Puncto Bezahlung, der Eintritt konnte nur in Pesos bezahlt werden erledigt waren stand unserem Abenteuer "Iguazu - Wasserfälle" nichts mehr im Weg.
Wir waren insgesamt 9,5 Stunden auf den Beinen und haben unglaublich fantastische Eindrücke erleben dürfen. Wasser von überall. Gut ausgebaute Wege, bzw. Metallstege führten automatisch zu immer wieder neuen gigantischen Wasserfällen. An dieser Stelle verweise ich auf Fotos und Videos.
Zurück im Hotel war nur noch Relaxen und nach einem wiederum kleinen Picknick am Pool, ausruhen und schlafen um Kraft für die Wasserfälle auf der Brasilianischen Seite zu tanken.
Der Iguazú-Nationalpark liegt im Norden Argentiniens und schützt den Teil der Iguazu-Wasserfälle auf argentinischer Seite sowie umliegende Gebiete derAtlantischen Regenwälder. Er wurde im Jahr 1934 eingerichtet und umfasst eine Fläche von insgesamt 555 Quadratkilometern. Im Jahr 1984 wurde er gemeinsam mit dem auf brasilianischer Seite liegenden Iguacu-Nationalpark zum Weltnaturerbe erklärt.
Der Park liegt im Nordosten Argentiniens an der Grenze zu Brasiliens. Die nördliche Parkgrenze wird vom Iguazu-Fluss gebildet. Die nächstgelegene Stadt ist Puerto Iguazu, das etwa 17 km von der Nationalpark grenze entfernt liegt. Der Nationalpark selbst umfasst eine Fläche von 492 Quadratkilometern, wozu ein etwa 63 Quadratkilometer großes Nationalreservat kommt. Die Gesamtfläche des geschützten Areals beträgt somit 555 Quadratkilometer. Der Iguaçu-Nationalpark, der auf brasilianischer Seite angrenzt ist etwa 1700 Quadratkilometer groß. Es gibt kaum größere Erhebungen und das ganze Parkgebiet liegt auf etwa 150 bis 170 m über dem Meeresspiegel.
Das Klima ist subtropisch und feuchtwarm mit Jahresdurchschnittstemperaturen von etwa 20 °C, die auch im Winter nur relativ wenig unterschritten werden.
The IGUAZU WATERFALLS from the Brazilian side
The magnificent spectacle of these 275 individual waterfalls has awed tourists, locals and indigenous inhabitants for centuries. They originate from the Iguazu River and are located on the border of Brazil (in the state of Paraná) and Argentina.
In fact, the Iguazu Falls are what divides the river of the same name into its upper and lower portions, a fact that has given rise to several myths and legends as to their origin. This river forms the boundary between Brazil and Argentina, making it a significant part of the political and geographical structure of the continent of South America. It is 1,7 miles wide. 80% of the falls are on the Argentine side and 20% on the Brazil side.
The Iguazú National Park is a national park of Argentina, located in the Iguazú Department, in the north of the province of Misiones, Argentine. It has an area of 672 km2 (259 sq mi).
The area of the park was inhabited 10,000 years ago by hunter-gatherers. 
The park was created in 1934 to protect one of the greatest natural beauties of Argentina, the Iguazu Falls, surrounded by the subtropical jungle.
The Iguazú River ends in the Parana River 23 km beyond the falls, after a 1320 km course. Inside the park it becomes up to 1,500 m wide and turns first south, then north, forming a large U-shape.
Located in Misiones Province in the Northeastern tip of Argentina and bordering the Brazilian state of Parana to the north, Iguazú National Park, jointly with its sister park Iguaçu in Brazil, is among the world's visually and acoustically most stunning natural sites for its massive waterfalls.
It was inscribed on the World Heritage List in 1984. Across a width of almost three kilometres the Iguazú or Iguaçu River, drops vertically some 80 meters in a series of cataracts. The river, aptly named after the indigenous term for "great water" forms a large bend in the shape of a horseshoe in the heart of the two parks and constitutes the international border between Argentina and Brazil before it flows into the mighty Parana River less than 25 kilometres down river from the park.
Large clouds of spray permanently soak the many river islands and the surrounding riverine forests, creating an extremely humid micro-climate. 
The semicircular waterfall at the heart of this site is some 80 m high and 2,700 m in diameter and is situated on a basaltic line spanning the border between Argentina and Brazil. Made up of many cascades producing vast sprays of water, it is one of the most spectacular waterfalls in the world.
The surrounding subtropical rainforest has over 2,000 spe of vascular plants and is home to the typical wildlife of the region: tapirs, giant anteaters, howler monkeys, jaguars and caymans.